Four women went topless in St. Peter's Square to protest the Vatican's opposition to gay marriage.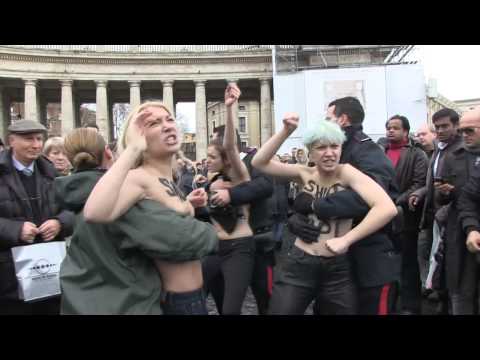 Police quickly took the women away Jan. 13, and the pope appeared not to have been disturbed as he delivered his traditional prayer from his studio window overlooking the piazza.
On their bare bodies, the women of FEMEN had painted slogans "In Gay We Trust," and "Shut Up."
One of them, Inna Shevchenko, said: "Today we are here to protest against homophobia."
Wikipedia describes FEMEN as a Ukrainian feminist protest goup based in Kyiv and founded in 2008. The organization is best known for its topless demonstrations for women's rights and human rights.
The small demonstration in Rome coincided with a march in Paris that drew hundreds of thousands of people to protest the French president's plan to legalize gay marriage and let gay couples adopt children.
French Catholic bishops and other religious leaders have strongly opposed the proposal, and the Vatican has backed them.
Via: wisconsingazette.com
Short link:
Copy - http://whoel.se/~2ytwV$25h