Blogs

Follow all of the latest developments as they happen.
November 13, 2015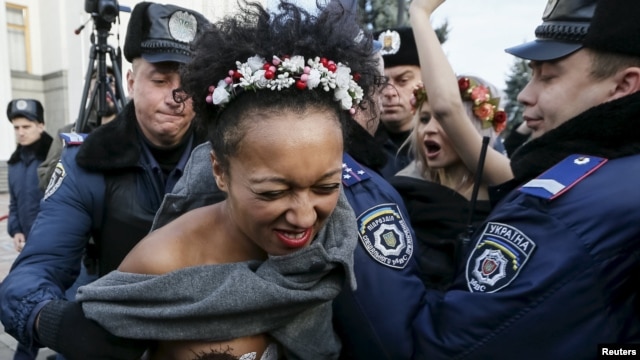 Ukrainian police detain activists of the women's rights group Femen as they protest against homophobia outside the parliament building in Kyiv on November 12.
Your JavaScript is turned off or you have an old version of Adobe's Flash Player. Get the latest Flash player.
---
Latest News
-- The French descendant of one of the Russian Empire's richest family dynasties this week became mayor of the Ukrainian town of Hlukhiv, where his family made its fortune. 
-- Ukrainian President Petro Poroshenko has awarded U.S. financier and billionaire philanthropist George Soros with Ukraine's Order of Liberty. 
-- A preliminary probe by the International Criminal Court suggests that Ukraine's security forces used "excessive and indiscriminate" force in the 2014 EuroMaidan protests but are not guilty of crimes against humanity. 
-- Ukraine's parliament has voted for changes to the country's Labor Code that include protection against discrimination for members of the lesbian, gay, bisexual, and transgender (LGBT) community.
-- The Verkhovna Rada also passed a resolution recognizing the 1944 Soviet deportation of Crimean Tatars as genocide. ​
*NOTE: Times are stated according to local time in Kyiv
Share:
Share:
Share:
Share:
Here is today's map of the security situation in eastern Ukraine, according to the National Security and Defense Council:
Share:
Share:
Dmitry Peskov
Russian presidential spokesman Dmitry Peskov says that if Kyiv doesn't pay $3 billion to Russia, Ukraine will default.
"We are talking about a sovereign debt, so failure to pay it back would mean a default situation," he said.
In October, Peskov already said that Moscow is expecting Kyiv to repay its debt in full, otherwise, default would be inevitable.
Today, Ukrainian Prime Minister Arseniy Yatsenyuk said the government would introduce a moratorium on paying the debt to Russia, if Moscow does not agree to its restructuring.
On November 12, Ukraine completed a restructuring of $15 billion in public and publicly guaranteed debt. Kyiv reached agreements with all of its creditors except for Russia.
The Ukrainian government considers Russian Eurobonds to be a private debt taken by former president Viktor Yanukovych. Moscow disagrees. 
Share:
Share:
Artem Kukharenko, a student of archive studies, has, at 22, become Ukraine's youngest village head. Having received 80 percent of the votesduring the October local elections, Kukharenko is now the head of his native Podilske village in Cherkasy Oblast.
"One of the main reasons why I stay in the village and don't run away to the city looking for a better life is that I want young people to come back here. I will try to learn from the successful experience of other villages. I really don't want my village to turn into a farm," he said in an interview with Hromadske TV.  "I will do everything in my power, and time will tell." 
Share:
Share:
Via: rferl.org
Short link:
Copy - http://whoel.se/~3QRyd$6MQ